Master Corporal (Ret'd) Steve Mercer
November 10, 2020 @ 10:00 am

-

11:00 am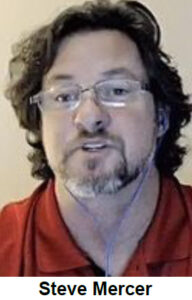 Veteran of Bosnian conflict continues battle with PTSD
Duncan McLaren introduced guest speaker Master Corporal (Ret'd) Steve Mercer who joined the Canadian Forces in September of 1990. Steve joined his regiment in April of 1991 after completing basic training. He was trained as an armoured vehicle driver with B squadron of Royal Canadian Dragoons and was part of an 850-person deployment to Bosnia in October 1994.
Steve spent seven months as part of a peacekeeping force which was, in fact, dropped into an active war in which they were not allowed to participate unless they came under direct fire. In Steve's mind, one side was as guilty as the other in the three-way conflict between Bosnians, Serbs and Croatians. He added that reports by the observers were often altered by higher authorities to suit the political agenda.
Steve said that serving in the military offers in-credible rewards where soldiers develop extremely close friendships and learn to share things that they wouldn't even share with family members.
However, on the other side, Steve said that as an untested 23-year-old he came to realize the potential danger their troops faced. He said that they were on the receiving end of enemy fire which often came from teenagers who were being directed by leaders who were often intoxicated. He pointed out that the enemy forces recognized the peacekeepers as easy targets because they knew the Canadians wouldn't shoot back.
When Steve returned to Canada, he felt that he was returning to normal life. He married, had a daughter, and continued with various training courses. But his wife died from cancer at age 29 and Steve started to realize that he wasn't coping with life as well as he should. It took a year and a half to get a diagnosis that Steve was suffering from Post Traumatic Stress Disorder.
He retired from the military after 20 years but a second marriage ended in divorce and Steve said that he was unable to hold a job and ended up jobless and home-less. Steve said that he is still split from his family and continues trying to figure out what happened to him.
He said that although he has many good memories of his time in the service, he can't forgive himself for his own failings.
Steve continues to receive treatment for his PTSD and asked that on Remembrance Day, we think not just about veterans who gave their lives but also those who returned from conflicts but also made lasting sacrifices.
Steve shared a number of photos starting with his training base in Cornwallis, photos from the conflict in Bosnia and ending with his boat which he calls his safe place where he can get away from the outside world.
Duncan thanked Steve for providing us with this intimate look at the sacrifices made by modern-day soldiers.
See Steve's presentation on YouTube click here…