Matthew Whitley (Detective Sergeant)
December 8, 2020 @ 10:00 am

-

11:00 am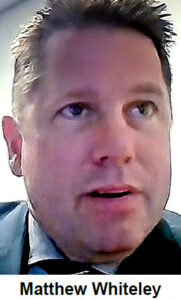 Complex details in collision reconstruction unveiled
Frank Parkhouse introduced guest speaker Detective Sergeant Matthew Whiteley, officer in charge of the collision reconstruction unit for Niagara Regional Police.
Detective Whitely gave an interesting talk on the science of investigations of traffic incidents. The collision reconstruction unit investigates all fatal and life-threatening injury accidents, all departmental collisions, and all hit-and-run incidents
The officers work in teams of two to investigate collisions. The investigation consists of two parts: the criminal investigation role involves interviews of witnesses and canvassing for possible video evidence; the actual collision investigation includes, what Matthew referred to as the 'Sherlock Holmes' stage involving collecting evidence from the accident scene. This includes mechanical inspections of the vehicles, observing and measuring skid marks, gouges in pavement, debris left behind and the position of vehicles after the collision.
Matthew explained that the accident scene can offer tips about what happened. For instance, he said that a lack of skid marks could point toward a possible suicide attempt.
Matthew illustrated how all the information, including the weight of vehicles, can be worked into complex mathematical formulas to determine approximate speed and direction of vehicles when they collided. Matthew said that police stage and film collisions to study impacts and provide information that helps in the reconstruction of accidents.
He used several training videos to demonstrate what happens in a collision and how the officers use that information in their reconstruction efforts. He said when the investigating officers apply their formulas to the information they gather, they select the lower value for potential speed of the vehicles and all their results are peer reviewed for accuracy.
One of the videos, Matthew showed was a simulation of a collision with a pedestrian and, as he pointed out, it is unlikely that a driver could hit a pedestrian without being aware of it as, at least in the video, the vehicle suffered significant damage as the crash-test dummy went flying.
During a question-and-answer session, Matthew said that winter conditions with ice and snow
can hide some evidence and make reconstruction much more difficult.
Al Higgins thanked Detective Sergeant Whiteley for the behind the scenes view of accident investigations while sparking the interest of the many engineers in the group with his math formulas.