Marieke E. Schmidt, Rover Explorers
June 8, 2021 @ 10:00 am

-

11:00 am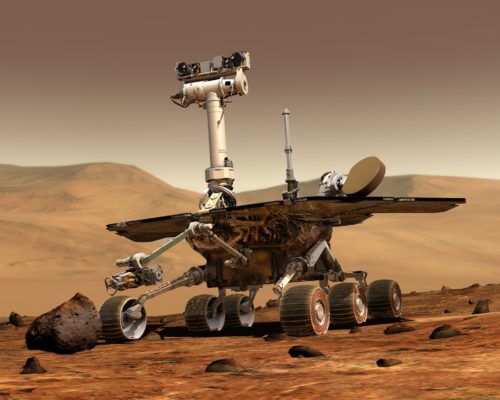 Marieke E. Schmidt, Professor of Earth Sciences at Brock University. Marieke has been involved in the study of Mars since 2005 and has been selected by NASA to be a participating scientist on the Mars Science Laboratory working with the rover exploration missions.
Marieke said that the big question about Mars remains whether it is habitable. She said that Mars is most closely situated to the habitable zone in our solar system. Evidence gathered by four different rover missions indicates that there was water on the surface at one time although there is no liquid water on the surface now.
The four rover missions have explored different areas of Mars. The first rover, Spirit, was active from 2004 until 2010 and the second, Opportunity, was active until 2018. Pictures returned by Opportunity showed that sediments were deposited by water and that water percolated through rock. Marieke said that this may have happened millions of years ago.
The third rover mission, called Curiosity, was sent to explore and assess a region on the Mars surface as a potential habitat around the 150-kilometre Gale Crater. Here, it found rock deposit[1]ed in lake-like situations.
The most recent rover mission, Perseverance, landed on Mars in February. It was accompanied by a small helicopter called Ingenuity which made history by flying in the low atmosphere and has allowed scientists to greatly expand their area of exploration. Ingenuity has returned pictures from a site called Santa Cruz, a hill located 1.5 kilometres from Perseverance.
Marieke said that pictures show land strewn with large rocks from volcanic activity but there is no evidence that there have been active volcanoes in millions of years. She pointed out that some of the small rocks are so sharp that they forced a redesign of the tires for the last rover.
Marieke added that the ultimate goal of the Mars exploration is to send a lander and fetch rover to the planet to collect rock and soil samples and return them to Earth for further study. However, she pointed out that the target timeline for that to happen is 2034.
Marieke also said that the United States is not alone in the exploration of Mars as both China and the UAE have launched probes.
See Marieke's presentation on YouTube click here…