Danny Lamb, The Power of Music
July 9, 2019 @ 10:00 am

-

11:00 am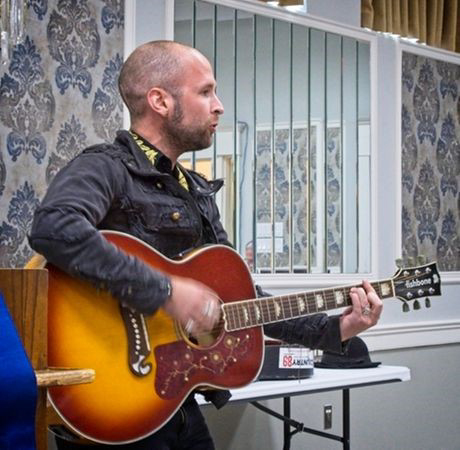 Andy Redman introduced July's guest speaker, Danny Lamb, saying that he had known Danny from the time he was born and surprised Danny by presenting him with a couple photographs taken when he was an infant.
Danny's talk was on the Power of Music in my Life and he began his presentation by performing a song he wrote called "Champion". Danny, who was born in St. Catharines and grew up in St. Davids, was diagnosed with hydrocephalus at the age of three and had to have a shunt implanted to drain cerebrospinal fluid from in and around his brain. At first, the problem did not interfere with his passion for sports and especially soccer, but he was finally forced to give up the sport after breaking the shunt.
There are four types of spina bifida which is characterized by the incomplete development of the brain, spinal cord and/or meninges (the protective covering around the brain and spinal cord). The exact cause of spina bifida remains a mystery. In Danny's case, a malformation resulted in a blockage of cerebrospinal fluid resulting in damaging pressure on the brain.
Denied sports, Danny turned to music and a Rotary exchange to Brazil taught him that he could communicate through music even though he couldn't speak Portuguese.
He returned home believing that he could use music to connect with young people and spread the word about hydrocephalus and spina bifida and got involved with Hydrocephalus Canada and has taken part in music workshops around the world.
He has used his musical talents to encourage people to meet their challenges through groups such as PUSH (People United for Spina Bifida and Hydrocephalus), the Music and Lives movement, WE.org and www.asongacity.com
Danny said the goal of the Music and Lives movement is to help kids find what their next steps will be through music. He mentioned one young musician who got to perform in Las Vegas just days after graduating from Grade 8.