Lynn and Jim Miller, trip to Peru and Machu Picchu
August 13, 2019 @ 10:00 am

-

11:00 am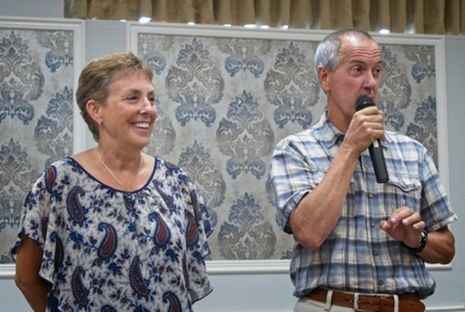 Speakers offer photographic journey to Machu Picchu
Wayne Tester introduced his daughter Lynn Miller and her husband Jim and provided some background for the presentation on their trip to Peru and Machu Picchu. Lynn and Jim took the pictures during their trip in 2015 while Wayne did the editing and composing of the program match-ing pictures with the pan flute music of Ecuadorian Leo Rojas.
Lynn and Jim first visited Cusco, located in southeastern Peru, a city with a population of more 400,000 which was once the capital of the Inca empire. Their journey from there took them to what is called the sacred valley where they viewed massive salt mines.
The final goal of their trip was Machu Picchu, the Incan Citadel set high in the Andes Mountains, about 80 kilometres northeast of Cusco. Jim and Lynn's photos illustrated the sophisticated dry-stone walls in the buildings constructed around 1450.
During a brief question and answer session, Jim pointed out that the Inca civilization lasted only about a century before the Incas were conquered by the Spanish and the population was wiped out by disease.
The ancient settlement is about 3,000 metres above sea level and both Lynn and Jim said they were able to cope with that elevation, but Lynn said she didn't follow when Jim took a challenging Inca trail that allowed him to get photos from high above the main site.
Jim said their trip was arranged through a company called Geo Adventures and they looked after all their needs.
Joe Vanderkooi thanked Jim and Lynn as well as Wayne for their combined efforts to produce such an engaging show and presented Jim and Lynn with a token of the club's appreciation.