Zachary Rondinelli, (PhD student in Educational Studies at Brock University)
August 11, 2020 @ 10:00 am

-

11:00 am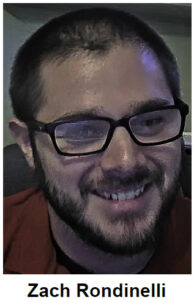 Doctoral study exams role of comics in learning
Dan Plunkett introduced guest speaker Zachary Rondinelli, a Niagara Falls native, who is a PhD student in Educational Studies at Brock University. Zach's presentation and his research involves "Documenting Transactional Experiences with the Little Nemo comic strips."
Zach, who earned his master's degree at Brock but also studied at Western and spent time as an English teacher, said that his research at Brock looks at comics theory and pedagogy which involves studying what comics can offer society. The theory describes an approach to studying comics – what they say and how they say it. Comics pedagogy describes teaching with comics, teaching about comics, teaching through producing comics and teaching comics production as a means of processing and learning.
Zach bases his research on a comic titled "Little Nemo in Slumberland" which was produced by Windsor McCay and was published in the New York Herald from 1905 to 1911 and in the New York American from 1924 to 1927.
Zach said that the purpose of his research is to investigate how individual meaning is constructed between a reader and a text.
He is in the process of tweeting a new comic strip each day for 549 days. He offers his interpretation of the strip and seeks input from followers. At the end, all the data he receives will be compiled into his master's document.
Zach said that he disagreed with the common teaching philosophy of trying to determine what an author meant in a given passage and that it is more important to determine what the passage relays to the reader.
Zach listed a number of expected implications of his research including supporting the use of comics in learning.
John Senn thanked Zachary for providing us with an inside look at the complex study involved in a master's research and promised that a gift certificate will be in the mail for him.
See Zachary's presentation on YouTube click here…