Capt. Michael Robson Marine Seaway Pilot
August 9, 2022 @ 10:00 am

-

11:00 am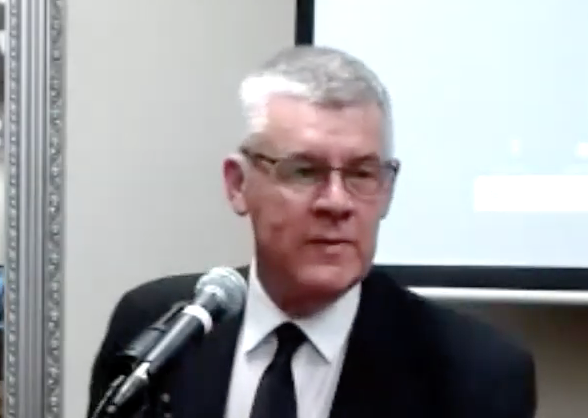 Capt. Michael Robson Marine Seaway Pilot at Great Lakes Pilotage Authority on 'Marine Pilotage'
Marine pilot talks about his life on the seaway
Duncan McLaren introduced guest speaker Capt. Michael Robson, a marine seaway pilot with the Great Lakes Pilotage Authority. Michael, now semi-retired, served as pilot on international vessels on the Welland Canal as well as Lakes Erie and Ontario.
He began his career in the British Merchant Navy and after coming to Canada took his pilot's exam in 1995 and worked with various shipping companies including Misner and Upper Lakes Shipping. After receiving his pilot's licence he had to make 50 training trips before being qualified to direct a ship through the canal system on his own.
Michael explained that all international ships are required to have a trained pilot on board going through the seaway while Lakers have the option. He said the pilots don't actually take control on the ship but give verbal directions to the ship's captain.
He pointed out that there are four pilotage authorities in Canada – Atlantic, Lower St. Lawrence, Great Lakes, and Pacific. He said that pilots normally work 12 to 13 days and then have five days off depending on seaway traffic.
He mentioned that at one time there were plans to create a new canal with three super locks to replace the current seven, but those plans were dropped because of reduced ship traffic. Michael said that the maximum size for a ship going through the Welland Canal is 740 feet in length and 78 feet in width. That allows just two feet of clearance in the 80-foot-wide locks. He added that the newest Viking cruise ship conducting tours through the Great Lakes is also at the maximum size.
Michael said that all locks and bridges are now remotely controlled, and a suction system has eliminated the need for manual tie-ups within the locks.
He said that ships using the canal system carry a wide variety of cargo including parts for wind turbines although steel and grain are the most common.
Michael highlighted his excellent presentation with photos and a series of short videos showing some of the many ships going through the system. His videos clearly demonstrated the dangers faced by pilots getting off their pilot boat onto ships in rough water. He said that wind presents the biggest problem for pilots although fog and a lack of visibility are also difficult.
Duncan thanked Michael for his informative talk and presented him with a gift certificate as a token of appreciation.