Ed Telenko – St. Catharines Academy of Fine Artists
July 11 @ 10:00 am

-

11:00 am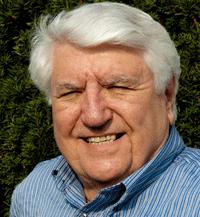 Ed Telenko,  Executive Director  St. Catharines Academy of Fine Artists
Topic: Participation in art has therapeutic benefits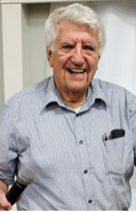 Duncan McLaren introduced guest speaker Ed Telenko, a new member of the PROBUS Club and a graduate of the Ontario School of Art and Design, whose topic was art for older adults stressing the therapeutic benefits of participating in art. Ed is the executive director and lead instructor at the St. Catharines Academy of Fine Artists.
Ed pointed out that art has helped shape thousands of years of culture around the world. He referred to the evolution of art over the years and said that in the 20th century all the rules gave way to a greater freedom of expression.
Ed explained that there is no need to feel intimidated by the idea of art. It is the act of doing art and not the final product that carries the benefits. He pointed out that anyone can begin with simple sketches in black and white and from there perhaps move on to using basic coloured pencils and progress to using simple water colours without every venturing into oil.
Ed offered a quote from Picasso who said, "Art washes the dust from the soul." Dr. Ann McMillen, a physician, has done much for modern art stressing its therapeutic benefits and how it enhances cognitive impairment allowing people to cope with stress, anxiety, and depression.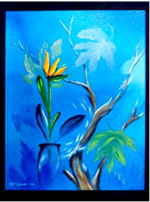 Ed said that children are attracted to pen and paper to create something which to their mind is artistic. He added that art connects kids to people and the world.
Working in art offers creative expression and can boost self esteem while enhancing cognitive abilities. Ed said that he has been influenced by Lawrence Katz whose book "Keep Your Brain Alive" stresses the need to use all five senses to keep your brain strong and healthy. He says that art stimulates brain and nerve connections and promotes the production of Dopamine, a motivational molecule that helps maintain brain plasticity.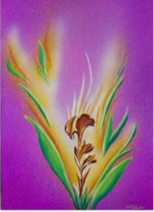 Ed also mentioned another influencer for him and showed examples for the creative work of famous glass blower Dale Chihuly.
Ed said that his own artwork has progressed through various stages. He showed examples of the caricatures he has done of prominent St. Catharines people as well as more recent works of Lyrical Surrealism. He added that he has tried to disprove the idea that water colours are "wimpy" and can be vibrant.
Duncan thanked Ed for his interesting talk and presented him with a gift certificate in token of appreciation.