Brian Narhi – St. Catharines Historian
August 8 @ 10:00 am

-

11:00 am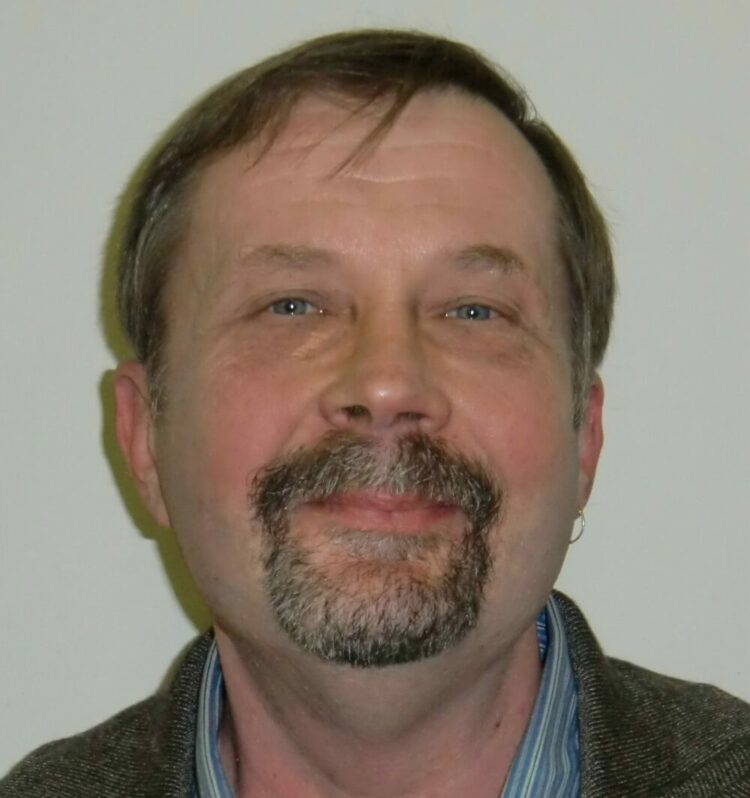 Brian Narhi – St. Catharines Historian
Topic: Hydraulic raceways played key role in St. Catharine's growth
Duncan McLaren introduced guest speaker, local historian Brian Narhi whose presentation was entitled "Hydraulic Raceways and the St. Catharines Economy in the 19th Century."
Brian, who obtained his first of several degrees from Brock University and has over 20 years experience as an historian and archival researcher, said that William Hamilton Merritt built an early mill on Twelve Mile Creek but experienced problems with low water levels and looked for a solution to provide a consistent source of water. A man by the name of Henry Mittelberger proposed the idea of a separate ditch feeding from Chippawa Creek.
But when the first Welland Canal, which followed the path of Twelve Mile Creek, was opened in 1830, there was no room for the original feeder ditch. Merritt combined with Oliver Phelps, chief builder of the canal, to create a new ditch, drawing water from the canal and emptying back into the canal, from near Lock 19 of the canal in Merritton to the Taylor and Bate Brewery, which was located just north of the present Burgoyne Bridge, below Yates Street.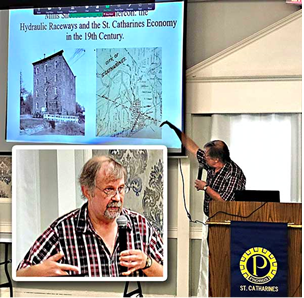 Brian used Power Point to display old maps and diagrams showing the path the raceway took across the city. He explained that there was a three-tiered raceway and that it had a 56-foot drop from top to bottom.
Brian said that although the raceway suffered regular breakdowns it sparked tremendous economic growth for the city as more and more mills were built to take advantage of the waterpower.
Local businessman Thomas McIntyre was one of the early builders with his Norris Mills. Others included Canada Haircloth, McKinnon Industries and Wood Brothers Tannery. Brian pointed out that in 1827 there were just 384 people here and by 1834 the population had grown to about 700 and by the 1940's to about 2,000. Canada Haircloth was the first to make use of the waterpower to generate electricity.
He pointed out that many of the buildings that face St. Paul Street and backed onto the old canal were built on stilts because the tiered raceways didn't allow room to build right down to ground level.
Brian explained that the raceways were owned by the government which at one point granted leases for water rights to various businesses The city finally took possession of the raceways in 1935 and as electricity started to diminish the demand for waterpower much of the raceway was covered over and, in some cases, converted to sewer lines.
Much of the old canal and the raceway were filled in as children and adults frequently drowned in the open raceway.
After a question-and-answer session, Duncan thanked Brian for his fascinating look at part of our history and presented him with a gift certificate.