Adam Shoalts, (professional explorer and best-selling author)
April 12, 2022 @ 10:00 am

-

11:00 am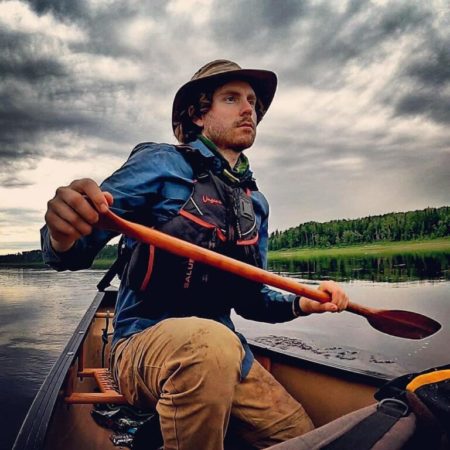 Adam Shoalts tries to uncover mystery of Labrador creature
Duncan McLaren introduced guest speaker Adam Shoalts, the Westaway explorer-in-residence with the Royal Canadian Geographical Society. The Fenwick native described some of his earlier explorations including following the route taken by map-maker David Thompson through the Rocky Mountains and his solo journey across Canada's far north.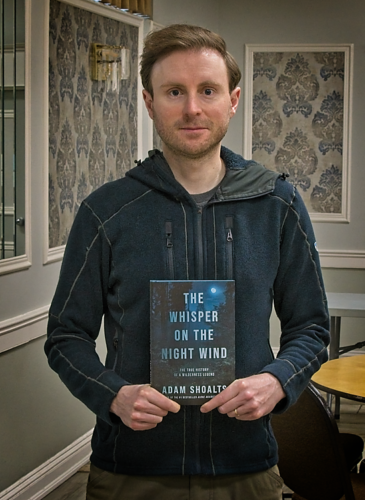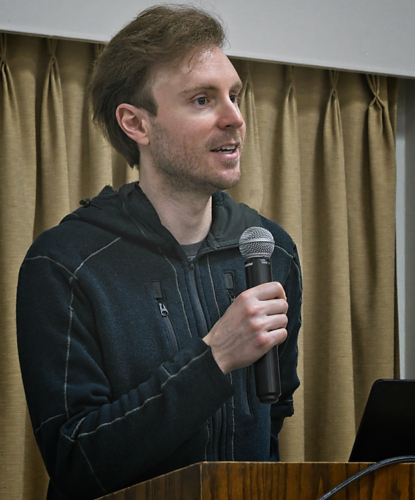 Adam said that it was while he was involved in research for his PhD in history from McMaster University that he became intrigued by written reports about the "Traverspine gorilla" in Labrador. Elliott Merrick wrote in 1930 about sightings of the huge hairy creature that frightened children and dogs and left behind massive tracks but was never spotted by hunters. Further research by Adam uncovered earlier reports by several doctors including Dr. Wilfred
Adam Shoalts Grenfell, the Newfoundland physician who travelled extensively across Labrador. Most agreed that the reports were too well-founded to doubt that the beast was some type of creature not previously seen in the area. Some of the written descriptions gave devil-like qualities to the creature.
Adam's detailed description of his travels to
reach the ghost town of Traverspine and his attempts to uncover the mystery are the subject of his latest book "The Whisper on the Night Wind."
Adam said that he felt he would be wise to have a second person on this adventure and reached out to a former high school mate who was now involved in mixed martial arts. Zach agreed with little hesitation and within a matter of days the two set out on the 2,000-kilometre drive to Happy ValleyGoose Bay situated on the north shore of the Churchill River in Labrador. From there they switched transportation mode to canoe where they battled high winds and strong currents to reach the Traverspine River and eventually the ruins of a two -storey house that was really all that remained of the former Traverspine.
Adam and Zach still had a lot of ground to cover to reach their goal of the ancient Mealy Mountains and at one point had to leave their canoe behind and fight their way through dense forest and bogs and finally scramble up the mountain while exploring various caves.
Adam admitted that the combination of reading many reports about mystery creatures in the area combined with the strange noises created by wind and animals made for a few sleepless nights in their tents.
Adam said that he didn't want to give away the ultimate secret to their exploration saving that for those who read his book. However, it's safe to say that although some of the mysteries may have been resolved, there remains an element of the unknown linked to what happened in the wilds of Labrador.
Duncan thanked Adam for his presentation and provided him with a gift certificate in appreciation