Tim Burrows, (Electric Vehicle Society)
March 8, 2022 @ 10:00 am

-

11:00 am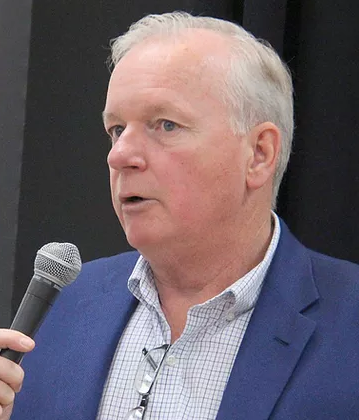 Tim Burrows champions the switch to an electric car
Duncan McLaren introduced guest speaker Tim Burrows whose presentation asked the question "Should your next car be electric".
Tim, a retired vice president of Forty Creek Distillery, is a member of the Electric Vehicle Society which is a non-profit organization which works to promote the understanding and adoption of electric mobility in Canada. He chairs the EV Society Etobicoke Chapter at Humber College.
25% efficient in producing power while an electric engine has one moving part and is 88% efficient. Government action means that we are heading toward a ban on combustion engines because of climate and pollution concerns. He added that in simple economic terms, batteries are becoming cheaper and lasting longer and there are fewer maintenance costs.
Tim said that his first electric car was a 2013 Tesla Model S and then he moved up to the Tesla Model X.
Newer electric cars now have a range of 400 to 500 kilometres between charges and the battery life has been extended to 400,000 to 500,000 kilometres. Tim said that 95% of the time, electric car owners recharge their batteries at home, but fastcharging stations also allow for longer trips.
Over that span of time, he has logged more than 200,000 kilometres without incident and without needing gasoline.
Tim pointed out that Tesla owners have access to superchargers coast to coast, but he said that Petro Canada is in the process of installing fast charging stations as well. He said that for home charging stations, you can get a special EV plug or a 30-amp service similar to a stove plug will serve the purpose.
He pointed out that back in 1900 electric cars out-sold gasoline pow- Tim Burrows ered cars until Henry Ford came along and produced cheap gas-powered cars. Tim said that General Motors produced an electric model from 1996 to 1999. Those model EV1 autos were available only through lease and could not be purchased and when the leases expired GM scrapped the whole fleet. Tim suggested checking out the 2006 documentary film "Who Killed the Electric Car" to learn about GM's experiment in California.
Tim detailed several reasons for making the switch to electric. He said a typical combustion engine has more than 200 moving parts and is only
Tim also touched on the emergence of self-driving cars claiming that they will reduce traffic accidents and deaths.
During an extensive question and answer period, Tim said that because most cars will be recharged at night, our current electrical infrastructure will be able to handle the extra demand although some local improvements may be required.
In summary, Tim said that EVs are faster, quieter, and cheaper to operate and the fact that there is no engine means you also have trunk space in the front as well as the rear.
Duncan thanked Tim for his presentation saying the number of questions reflected the interest in his topic. Duncan also presented a gift certificate as a token of appreciation.
At the speaker's request, his presentation was not recorded.