Sue and Dave Williams – Sail across the Atlantic in a tiny sailboat. 
July 12, 2022 @ 10:00 am

-

11:00 am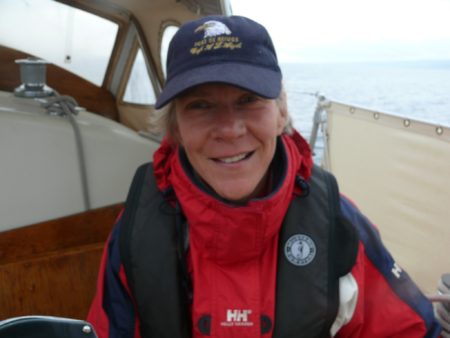 An Adventure on the High Seas and the Journey Within…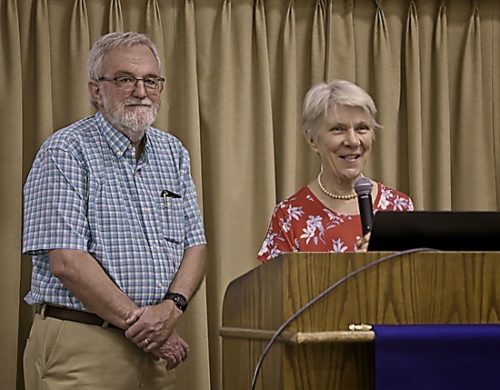 Dave & Sue Williams
Peter Jennings introduced guest speakers Sue and Dave Williams who jointly related stories of their amazing adventure in crossing the Atlantic in a 37-foot sailboat named Inia.
Sue admitted she had no interest in sailing but after husband Dave suffered a grand mal seizure brought on by stress and then was fired from his job, she made the decision to join him in attempting to achieve his dream of sailing across the Atlantic in a sailboat. The couple also felt it was time to give their three sons space to find their ways.
The couple spent a year preparing their boat and themselves for the challenges they would face.
After studying weather patterns to determine the best time to set out, they sailed from Hamilton harbour in May 2007 to cross Lake Ontario and continued down the St. Lawrence to the ocean.
The journey included a never-ending series of challenges, including sea sickness (suffered by Sue), navigation system failures, weather – three gales plus other times of dead calm – sleep deprivation, constant motion, and mechanical problems including the loss of radio contact.
At one point their propeller became tangled in a fishing net and Dave, who had an aversion to swimming in the ocean, had to dive under the boat to cut the netting loose. However, the netting caused enough damage that they were forced to replace their engine when they landed in Portugal.
Sue and Dave agreed that there were a lot of good moments as well. They were accompanied at times by playful dolphins, saw great sunrises and amazing night skies as well as meeting many fascinating people.
They ended up spending two and a half months in Portugal and then started the homeward portion of their trip aiming for the British Virgin Islands, the Bahamas and on to the U.S. Intercoastal waterway, the Erie Canal and finally back home via Lake Ontario.
In all they were gone 373 days, travelled 11,000 nautical miles and were at sea for 86 days.
Despite all the trials and tribulations both admitted they were sad to see the life-changing adventure come to an end.
Sue recorded their memories of the journey in a book titled "Ready to Come About" and had it available for sale following their talk.
Duncan McLaren thanked Sue and Dave for their presentation and provided them with a gift certificate as a token of appreciation.