Chris Leworthy – Battle of Britain
November 8, 2022 @ 10:00 am

-

11:00 am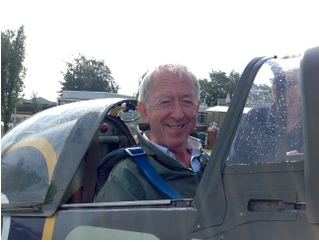 Chris Leworthy  presented the "Battle of Britain – 80+ years on"
Speaker unveils story behind the Battle of Britain
Andy Redman introduced guest speaker Chris Leworthy who appeared via Zoom from the UK. Chris is a former pilot who became a World War II historian and qualified as a guide at the Battle of Britain bunker in Uxbridge. The title of his PowerPoint presentation was "The Battle of Britain – 80 years on."
Chris pointed out that after France surrendered, the UK was left on its own for 18 months against the much more powerful forces of Germany. Germany launched Operation Sealion with the objective of gaining complete air superiority prior to an invasion. Although Germany had far more planes than the UK, the UK did have a couple advantages according to Chris. For one, England had established early radar towers along the coast that provided early warning of the approach of enemy aircraft giving the RAF time to launch planes to greet the attackers.
Chris credited the planning of Generals Hugh Dowding and Keith Park with helping to reduce the number of British casualties as they decided to allow German planes to reach land before engaging and then flying higher and attacking from above.  Chris said that the German Messerschmitts that flew protective cover for the bombers had a limited range because of fuel capacity and often had to break off and return to base leaving the bombers unprotected.
Chris said that the UK radar installations were limited to seeing forward so that once German planes flew over the radar, the tracking duties fell to the Observer Corps which used individuals with binoculars to determine where the planes were headed.
The location of incoming planes and of UK defenders were all tracked in underground bunkers. Members of the WAAF (Women's Auxiliary Air Force) served as plotting strategists. All planes were shown on giant plotting tables and the statis of all RAF squadrons were kept up to date on tote boards. Chris said that Prime Minister Winston Churchill was often present in the bunker to follow the progress of the battle.
Chris said that German Air Marshall Hermann Gӧring changed tactics from attacking radar installations, airfields, and factories to concentrate on bombing London. This allowed the UK pilots a brief respite and led to a major air victory on September 15, 1940. Although there were still many bombs dropped on the UK, Hitler turned his attention to the East and attacks on Russia.
Although the UK defence strategy worked it came at a cost of 544 allied young pilots from across 15 nations, including 25 from Canada.
Duncan McLaren thanked Chris for his powerful presentation and said that a $30 donation will be forwarded to Branch 24 St. Catharines Royal Canadian Legion in Chris' name in way of thanks.